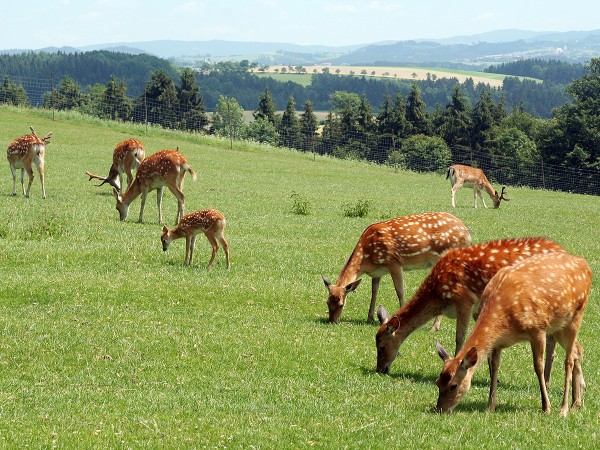 This trip will be appreciated especially by animal lovers and children. In some parts of the park you can move completely freely and stroke some animals or even feed them. You can watch animals moving freely and undisturbed in large coops; starting with wild boars, various kinds of deer, monkeys, goats, to zebras and even a cheetah or wolf.
At 15:00 every day, from May till October, the publicly accessible feeding of the cheetah takes place. This way you can observe how incredibly fast the cheetah can run after its spoil. The daily shows also include demonstrations of falconry, during which not only birds of prey but also several species of owls will circle above your head.
Everyone who likes nature and animals will enjoy the trip to Altenfelden. The entire park is wheelchair accessible, a small tour takes about two hours and it´s also suitable for a pram. You can even bring your dog friend, but it has to be on a short leash and under your constant control. Near the entrance to the zoo, there is a free car park and you can refresh yourself in several local restaurants.
Animal Park Altenfelden – GPS: N 48°28.16342', E 13°57.57740'