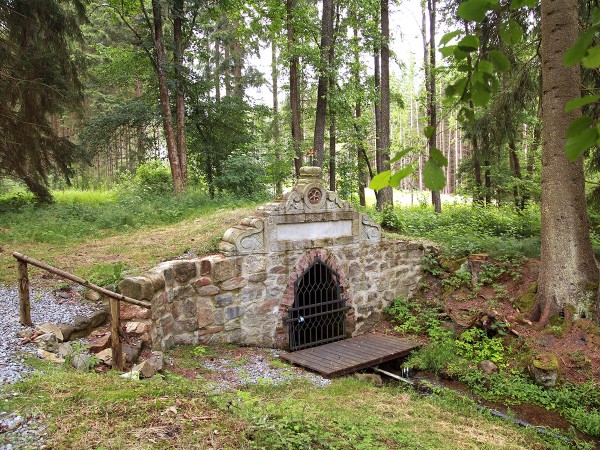 For many decades, the region of Černá v Pošumaví used to be a significant producer of graphite. The graphite mines were established by the Eggert company in the early nineteenth century. Over the years, extraction became very expensive as a lot of underground water leaked into the tunnels, and therefore in 1866 the mines were sold to the Schwarzenbergs.
The Schwarzenbergs started to drain the mines with the help of the hereditary (draining) Joseph´s Tunnel in 1897. The total length of this Tunnel was over 2 kilometres – more precisely 2240 meters. Its outflow is a stone portal decorated by the prince crown and it´s located near the village of Mokrá in the woods not far from the so-called small Lipno (male Lipno).
Joseph´s Tunnel and other remains of mining works near Mokrá belong to the best-preserved mining landmarks from the period of extraction of Southern Bohemian graphite, that´s why you can´t miss visiting this technical landmark. You could be interested in the fact that on the gate of the Tunnel there is a cup from which you can drink the high quality, local spring water that flows through the built channel.
Joseph´s Adit (Josefova štola) – GPS: N 48°45,494´ E 14°06,856´