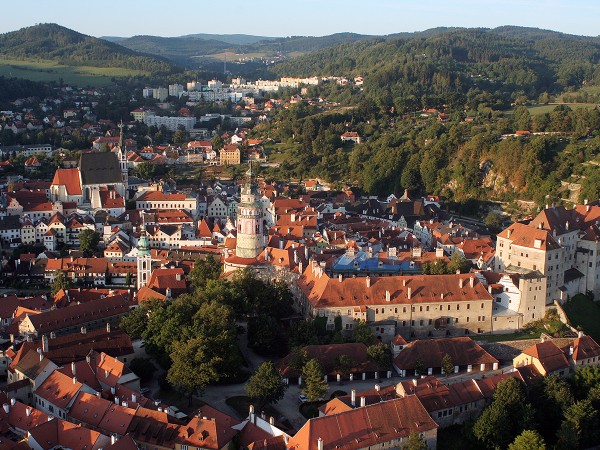 Český Krumlov is primarily attractive for its varied past. It used to be a residential town for many powerful Czech aristocratic families, such as the Vítkovci, Lords of Krumov, Rosenbergs, Eggenbergs and Schwarzenbergs. Among the most interesting landmarks worth visiting is definitely the Krumlov Castle, originally it used to be a gothic castle that was rebuilt in the renaissance, baroque times and during the reign of Joseph I Adam of Schwarzenberg. Český Krumlov Castle is the second largest castle complex in the Czech Republic after Prague Castle and since the Rosenbergs until today bears have been kept in the moat between the 1st and 2nd courtyard. This tradition of bear breeding has existed for more than 400 years.
Certainly, you shouldn´t miss the 10 hectares Castle Gardens founded in the 2nd half of the 16th century. The Gardens are divided into the French and English parts and you will find the unique Revolving Auditorium here where several theatre plays are performed under the sky in the summer season.
Other landmarks in Krumlov include also the Inner Town which is utterly surrounded by the meander of the Vltava River. You will find the almost unchanged system of streets, lots of preserved town houses, the Town Hall, the fountain with a plague column, St. Vít Church (kostel sv. Víta), Krčíns House, Vlašský courtyard, the Jesuit College and also the so-called Široká street which used to be intended for markets. To the north of the Innter Town lies the Latrán district, where the Castle Brewery – formerly the Schwarzenberg Brewery, today the Eggenberg Brewery can be found. In the town district of Plešivec there is, for example the synagogue or the photo atelier of Josef Seidel – one of the few preserved and open historical photo ateliers in Europe.
In Český Krumlov there are also lots of museums and galleries, for example the Egon Schiele Art Centrum, the Moldavite Museum (Muzeum vltavínů), the Museum of Historical Motorcycles (Muzeum historických motocyklů) and the Wax Museum (Voskové muzeum) with an exhibition of wax figures. In the near of the town, there is the possibility to walk down the former graphite mines. The historical festival celebrating the history of the town and the House of Rosenbergs – called the Five-petalled Rose Celebrations, is one of the most important events of the town and region. You can find the symbol of the Rosenbergs – the five-petalled red rose on a white background almost at every corner.
Český Krumlov – GPS: N 48°48.65443', E 14°18.91245'